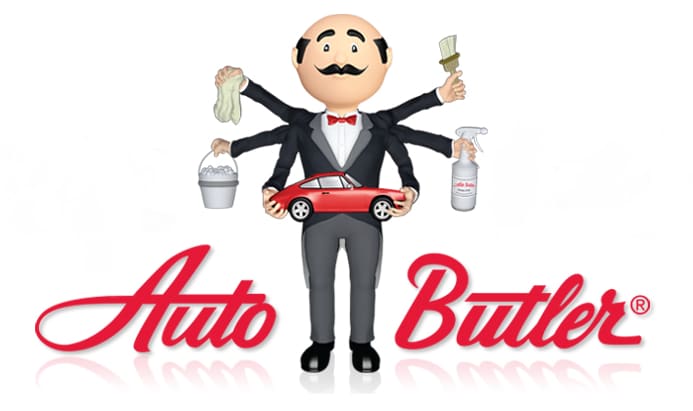 About Auto Butler
Auto Butler knows that environmental hazards can decrease the appearance and value of your new investment. Fortunately, the manufacturers take great care of your vehicle during the production and delivery process.
I'm sure you've seen how they wrap their cars in that white plastic to protect them from acid rain, bird droppings and other environmental elements.
That's great for you and the dealership because the cars are in perfect condition when they arrive on the dealer lot. And of course its the dealership's job to protect the inventory from the damaging elements while it is at the dealership. Auto Butler protects your investment by giving your vehicle protection after it has left the dealership.
Auto Butler Paint Protection
5 Year Paint Protection Warranty with Follow-up Program
Would you like to protect your vehicle from the ugly spots caused by exposure to weather, fallout and acid rain? Do the unsightly marks left by bird droppings and tree sap bother you? You could regularly polish your car, but that takes time and energy, plus it's costly. Why go through all of that effort when there is a better way to keep your car gleaming bright? The Auto Butler Premier Paint Protection II program, with its two-step process, gives you the protection you need and the shine you want - we guarantee it!
Auto Butler's two-step re-application program gives you years of warranty protection and assures a "new car finish" look that more than redeems the application cost when it comes to trade-in time. Auto Butler even sends you re-application reminders to be sure your car looks its best...all the time!
Fabrigard
It doesn't matter whether your vehicle has a fabric interior or leather. Our day-to-day lifestyle can really affect to appearance and condition of your investment.
Simple things, like accidental spills, or getting into and out of your vehicle with muddy shoes, will cause your interior to have permanent stains. These stains decrease the resale value of your vehicle.
Auto Butler's Fabrigard prevents stains and preserves the interior's showroom appeal. It is professionally applied using high pressure to thoroughly coat every fiber and thread of the vehicle's interior fabrics including the seats, seat backs and carpets. More than merely water-repellent, the tough coating prevents stains from coffee, soft drinks, milk and other water, or oil-based liquids. Spills bead up and wipe off. Fabric protection also prolongs fabric life by reducing "thread-on-thread" abrasion from dirt particles trapped between fibers that make up the cloth. With Auto Butler's 5-year warranty, you have peace of mind because you are covered against permanent staining.

Leathergard
A fine leather interior represents a major investment worth protecting. Leather requires frequent conditioning to maintain its original look and feel.
Without regular conditioning, leather will lose its natural lubricants, become brittle and unyielding, eventually cracking irreparably. The Auto Butler Leather Protection System is a conscientious program of care from the onset that includes re-treatment of your vehicle's interior leather components every six months for the life of your program. This system will keep your leather soft and supple, preventing premature failure. 
Give your leather goods the care they deserve and they will serve you for years to come!